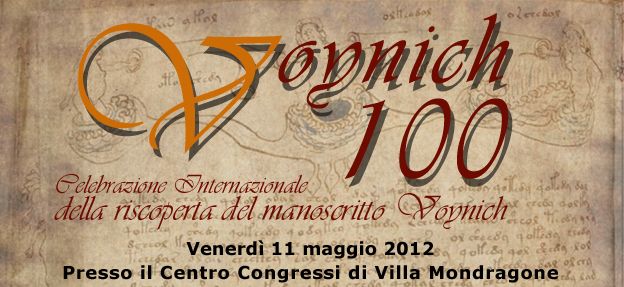 Previous symposia
The centenary celebration of the discovery of the Voynich MS was the largest Voynich MS event held to date, but it was not the first. Two recorded events have already been orgnised in the past.
D'Imperio's 1976 Voynich MS seminar
The first seminar was held on 30 November 1976, and the prceedings have been issued on a privately printed pamphlet: New Research on the Voynich Manuscript: Proceedings of a Seminar, 30 November 1976, 75 pages.
An important paper was presented by Prescott Currier, and is available via this link.
The full article including all tables, in PostScript format, is available
via this link.
Additional material will be added.
Teddington meeting in 1998
A one-day meeting was held in Teddington in the UK on 21 June 1998, and notes have been made by the late Denis Mardle and René Zandbergen, and are available via this link.
Media coverage of the Mondragone event
Amateur video of Klaus Schmeh
The video produced by Klaus Schmeh, at Youtube.
Terra Incognita
This Italian media group has prepared a documentary (44 min.) centred around the event. It is entirely in Italian.
You can also watch the trailer video.
Local and regional information
Foti, Smith, Zandbergen, 2012
Contact: N/A
Latest update: 13/10/2013