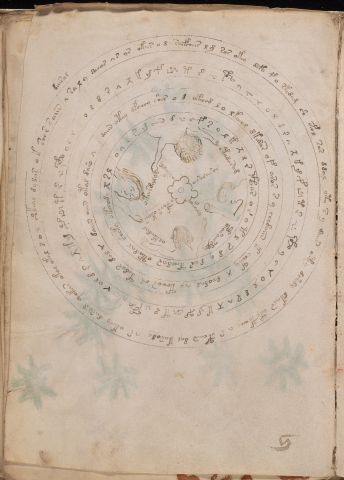 >>Link to 2014 scan (Beinecke digital library)
>>Link to 2004 scan (Jason Davies Voyager)
General description
This is a so-called cosmological page. For general information about cosmological pages see here. There is a symbol in the lower-right corner, which does not look like a standard quire mark.
Illustration(s)
A circular drawing with four concentric circular bands with writing, and in the centre four 'persons' each holding something. A small flower in the very centre.
Text
There are four bands with circular text. Outside the outermost circle is a label that appears to mark the start point. At this point, all four bands have a vertical line equally indicating a start marker.
All bands have single characters and single words. The second ring from the outside has a four times reapeating sequence of single characters. There are four labels radiating from the centre and four labels near the persons.
This page includes many special characters that otherwise occur only rarely. There is a symbol in the lower right corner that is not similar to the normal quie marks, but could be read to say "17th".
Currier language: B
Currier hand: -
Browse interlinear transcription of f57v
Other information
The four times repeating sequence has 17 characters.