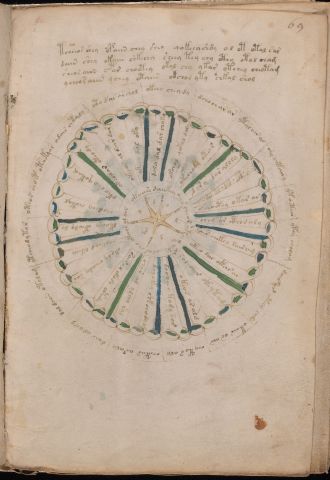 >>Link to 2014 scan (Beinecke digital library)
>>Link to 2004 scan (Jason Davies Voyager)
General description
This is a so-called cosmological page. For general information about cosmological pages see here.
Folio nr. (69) in upper right corner.
Illustration(s)
A large circular design. In the centre is a six-pointed star with unequal spacing of the 'arms. Outside that are many radiating lines, eight of which are painted blue (2 in each of the directions up, right, down and left) and four green (cutting each of the main four quadrants). There are 22 radiating lines of text. The outer ring is decorated with blue and green ovals. Outside that are some short and thin radial lines, and a band of circular writing, split up in 16 parts.
Text
There are four lines of text in a single paragraph at the top of the page.
There are 16 segments of text along the outer circle. There are 22 radiating lines of text. There is a shorter piece of circular text around the inner star, and in the six areas between the arms of the star are individual letters.
Currier language: -
Currier hand: -
Browse interlinear transcription of f69r
Other information
This illustration is very similar in general layout (but not much in style) to a winds diagram found in two English MSs, as found by Ellie Velinska.