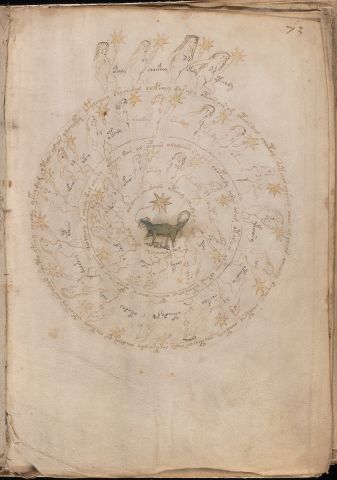 >>Link to 2014 scan (Beinecke digital library)
>>Link to 2004 scan (Jason Davies Voyager)
General description
This is a zodiac page. For general information about zodiac pages see here.
There is extraneous writing near the central zodiac emblem.
Folio nr (73) in upper right corner.
Illustration(s)
A large circular diagram with the emblem of Scorpio consisting of a drawing of an animal standing on four legs, with a curly tail, that looks more like a lizard than a scorpion. There is an additional star in the centre, with a line connecting it to the mount of the animal.
There are two circular arrangements of small, standing human figures (nymphs), and another four drawn at the top. There are 30 in total and they are all holding a star.
Text
There are three lines of circular text. There are 30 labels near the small human figures.
The month name November is written in the centre in a different hand than the remainder of the MS, and in a version of French (for which see here).
Currier language: -
Currier hand: -
Browse interlinear transcription of f73r
Other information
The animal really does not look like a scorpion, but this is observed in many other zodiac cycles produced in the 15th Century.