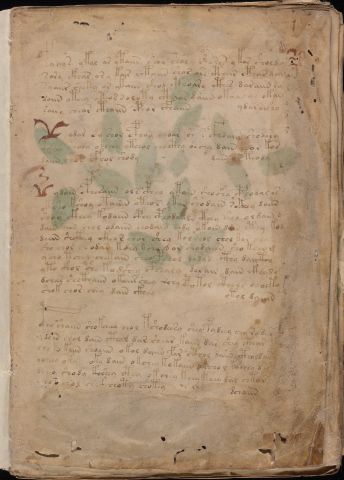 >>Link to 2014 scan (Beinecke digital library)
>>Link to 2004 scan (Jason Davies Voyager)
General description
This is the first page in the MS and it appears more worn then most other pages. It is a text-only page with four paragraphs of text, and there is additional writing by later owners.
Folio nr (1) in upper right corner.
There are several cases of writing by later owners on this page, notably the ex libris of Jacobus de Tepenec.
The stains on this page are from several causes: Voynich and Brumbaugh both describe how they applied chemicals to this page, and there are also imprints of a previous tanned leather cover.
Illustration(s)
While the page has no significant illustrations, there are three red so-called "doodles" which have been drawn in the same way as the illustrations in the MS, namely with outline drawings in ink, and afterwards painted in red. They are further discussed under the heading 'Text'.
Text
There are 24 lines of text, subdivided into four paragraphs. Each paragraph ends with one or two right-justified words (sometimes referred to as 'titles').
Paragraphs 2 and 3 have large initials (coloured red) which are not part of the Voynich alphabet. The two symbols are drawn or painted with flaring strokes ending in swallowtail serifs.
The right margin is badly stained. The text in the right margin shows three columns of letters. The first column has a through z in a lower case italic hand (< Reeds). The presence of every letter could not be confirmed, but a, b, c, ... o, p, q, r, s, ... y, z are pretty clear. Next to those are very spotty fragments of Voynich letters. Jim Reeds could make out d next to a, r next to c, g next to y, and one of the gallows letters somewhere near the q, r, s range. The third column seems to be 1 off from the first: italic miniscules, r next to s, and so on. Th.Petersen copies some of them in his hand transcription, but more is visible in the UV shots. I personally believe that the second Latin alphabet could be in a different hand than the first.
The folio number is not very clearly visible and there is another red mark vaguely looking like 29 below it. Brumbaugh further reports seeing some numbers in the upper right corner of f1r before it was obliterated by the application of chemicals (intended to reveal faded writing).
The bottom margin of f1r contains the ex libris: Jacobj a Tepenece, visible under UV light. This is discussed in more detail on a dedicated page.
Voynich reports seeing illegible characters below this name. Brumbaugh reports that below the signature is the word "Prag" In reality, it says 'No 19' (number not entirely certain).
Currier language: A
Currier hand: 1
Browse interlinear transcription of f1r
Other information
The page layout suggests four quotes with attributions, or signed endorsements. It is assumed that this page was also originally meant to be the MS first page. The four paragraphs could perhaps represent a summary of the contents of the MS.
The first red doodle looks like the old-style (Greek) Aries symbol. It is very similar to such a symbol in an illustration of an old greek Ms. The second doodle is vaguely similar to the first one and has also been compared to a Chinese character. A more recent view suggests that these are topic markers, and as such they are found also in other MSs.
The character tables in the right margin are possibly an attempt by one of the later owners to decipher the alphabet.
Brumbaugh also mentions the year 1*30 being written above the alphabet, and favours the theory that it is 1630, written by the owner prior to Marci. This is no longer legible, even under UV illumination.
The ex libris of Jacobus de Tepenec is a clear indication that he once owned the book, even though the name may possibly have been written by someone else. The 'No 19' below it is a common feature of all books once owned by Jacobus de Tepenec, or at least the six that have currently been identified (see the biographies page). There is some speculation about why it should have been erased and who would have erased it (or whether it has simply faded).